Features

Available in 3 sizes

Durable polyester

Closed-Cell Foam Padding enhances comfort





Slings Guide





Description

The Hoyer® Basic 4-Pt Sling features a commode cut-out for toileting activities. The Slings comes with Positioning Straps provides easy position adjustment of patient. It is made from durable polyester with closed-cell foam padding for enhanced comfort.
| | | | |
| --- | --- | --- | --- |
| Size: | Small | Medium | Large |
| Weight Capacity: | 55-110 lbs. | 99-210 lbs. | 198-350 lbs. |
| Length: | 33" | 42" | 47" |
| Seat Width: | 24" | 30" | 35" |
| Back Width: | 16" | 22" | 28" |
| Commode Opening: | 3.5" | 3.5" | 3.5" |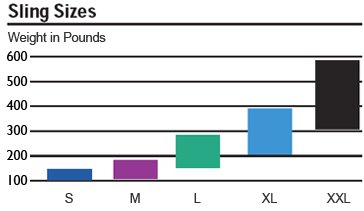 Limited Warranty: 1 year limited warranty
Return Policy If you receive a product and it doesn't fit, or it is not what you expected it to be, most products can be returned. Product must be in its original packaging with all Instruction/Warranty paperwork. Product must be unused. To return a product please request an RMA (Return Merchandise Authorization) by calling 1-888-826-4423 ext. 3. You must request an RMA within 10 days of receiving the product. All Returns must be complete within 30 days. Orders returned without an RMA# may not be identified or recognized as being a return and will be charged a 30% restocking fee and all shipping cost once processed. Restocking Fees: A 25% restocking fee applies to all returns. Order Cancellations: If you have placed an order with us and need to cancel it, please contact us immediately at 1-888-826-4423 ext. 3. We will make every attempt to stop your order from shipping; however we cannot guarantee that it hasn't shipped. Normal cancellation fee is 6% if your order has been processed. If your order has shipped, you will be responsible for the shipping charges to you and the return to us. This will be considered a return and treated accordingly. Orders for non-returnable products cannot be cancelled once shipped. Custom orders - Orders for adjustable beds, power wheelchairs, scooters and custom wheelchairs that are built-to-order cannot be canceled once the order is processed and assembly has begun. *Please - Do not refuse a parcel. Since many products must be shipped back to an address other than where it was originally shipped from, never refuse a product. Refusing a shipment will result in 30% re-stocking charges plus all shipping costs. Also, without an RMA number, the package may not be identified or recognized as being a return and credit will be not be issued. Terms: For all prices and products, we reserve the right to make adjustments due to errors, shipping times, product discontinuation or typographical errors in advertisements.