Features

Great for almost all patients and needs including amputees

For use with bed to chair and chair to commode transfers as well as floor pick-ups

Durable mesh sling

For use with Hoyer Advance, Presence and Stature lifts






Description

The Hoyer Advance Quick Fit Deluxe sling has additional material in the seat which provides a more comfortable and superior lift without the need for side suspenders. It is great those who are unable to assist on their own or who can provide some assistance. Works best for bed-to-wheelchair and floor transfers. This sling should only be used with the Hoyer Advance, Presence and Stature lifts.



Size

Weight Capacity

X-Small

80 lbs.

Small

110 lbs.

Medium

210 lbs.

Large

300 lbs.

X-Large

350 lbs.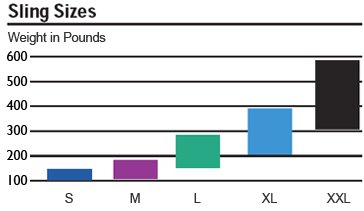 Limited Warranty: 6-month warranty
If you have a problem with your Hoyer Sling, simply call one of our expert customer service representatives, and they will arrange for the repair/replacement of your sling. Every effort will be made to return your Hoyer Sling to working condition in the shortest time possible.

The following parts will be repaired or replaced at our discretion, for the following allowable time periods from the date of purchase. The following parts are warranted to be free of defect in materials and workmanship.

6 Months:
Sling and all components

All of the previous parts are covered for defect in material and/or workmanship. Any abuse or intentional misuse of the product will void the warranty.
Return Policy If you receive a product and it doesn't fit, or it is not what you expected it to be, most products can be returned. Product must be in its original packaging with all Instruction/Warranty paperwork. Product must be unused. To return a product please request an RMA (Return Merchandise Authorization) by calling 1-888-826-4423 ext. 3. You must request an RMA within 10 days of receiving the product. All Returns must be complete within 30 days. Orders returned without an RMA# may not be identified or recognized as being a return and will be charged a 30% restocking fee and all shipping cost once processed. Restocking Fees: A 25% restocking fee applies to all returns. Order Cancellations: If you have placed an order with us and need to cancel it, please contact us immediately at 1-888-826-4423 ext. 3. We will make every attempt to stop your order from shipping; however we cannot guarantee that it hasn't shipped. Normal cancellation fee is 6% if your order has been processed. If your order has shipped, you will be responsible for the shipping charges to you and the return to us. This will be considered a return and treated accordingly. Orders for non-returnable products cannot be cancelled once shipped. Custom orders - Orders for adjustable beds, power wheelchairs, scooters and custom wheelchairs that are built-to-order cannot be canceled once the order is processed and assembly has begun. *Please - Do not refuse a parcel. Since many products must be shipped back to an address other than where it was originally shipped from, never refuse a product. Refusing a shipment will result in 30% re-stocking charges plus all shipping costs. Also, without an RMA number, the package may not be identified or recognized as being a return and credit will be not be issued. Terms: For all prices and products, we reserve the right to make adjustments due to errors, shipping times, product discontinuation or typographical errors in advertisements.